Is Your Website Ready for the Mobile Era?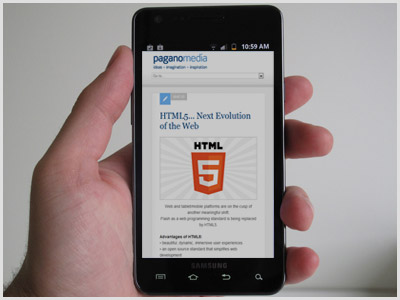 Smartphones and tablets are becoming the devices of choice for web browsing. It is important that your website is easily viewable on these mobile devices so that your business does not miss out on opportunities. A recent Nielson poll shows that 50% of U.S. mobile subscribers now own smartphones. This figure is a jump from the 38% smartphone users in 2011. Soon all cell phones will be smartphones!
Here are some tips to make your website mobile-friendly and mobile-compliant:
Keep it Simple

Viewing on a smaller screen might be difficult if your web design is cluttered and busy. Whether waiting at a red light or on an elevator, a mobile viewer wants a simple and easy-to-use interface.

Create a responsive design that adapts to the device

Smartphones and tablets have varying screen sizes. New techniques enable "responsive design" that formats the web page to the viewer's screen size. Responsive design means less page scrolling and facilitates surfing the web on-the-go.

Allow Ease of Contact

Have your address and phone number easily accessible for users. There's a much higher chance of getting inquiries when viewers can easily access your contact information.

Avoid Flash-based plugins; use new technologies

Flash and Mobile are not compatible. Flash drains battery power and is inefficient. The web is transitioning to HTML5 as a language standard. Now is the time to convert your Flash files!

Create a navigation that is easily accessible

Navigation can be confusing and literally all over the place. Keep menus simple and buttons bold.

Style Your Content by Importance

When viewing on the go, it's important to get information fast. Establish a hierarchy of information. Remember to bold or enlarge key message drivers.
With these six mobile-friendly features, your website will engage all visitors. If you need assistance in assessing the mobile compatibility of your website, please contact Joe or Kathleen at Pagano Media.