Pagano Media Lands TWO W3 Awards for Web Design Excellence!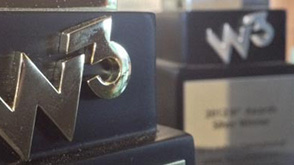 Pagano Media is a winner of two 2014 W3 Awards from the International Academy of the Visual Arts (IAVA) for creative excellence in web design. The first web design award is for Achievement Prep (achievementprep.org), one of the country's leading charter schools and located in Washington, DC. The second web design award is for Worcester County Food Bank (foodbank.org), the largest source of donated food in Worcester County.
Receiving over 4,000 entries, the W3 Awards honors outstanding Websites, Web Marketing, and Web Video created by some of the best interactive agencies and designers worldwide. "We were once again amazed with the high level of execution and creativity represented within this year's group of entrants. Our winners continue to find innovative and forward-thinking ways to push the boundaries of creativity in web design." said Linda Day, the Executive Director of the IAVA. "On behalf of the entire Academy, a huge congratulations to this year's winners for their dedication and commitment to excellence on the Web – job well done!"
"Combining creative juices with Achievement Prep and Worcester County Food Bank teams on such exciting web projects was an honor", notes Kathleen Pagano, Strategic Director of Pagano Media.